KEYESTONE GROUP AND HYATT TO COLLABORATE ON CHINA'S FIRST HELLO KITTY HOTEL IN HAINAN
KEYESTONE GROUP AND HYATT TO COLLABORATE ON CHINA'S FIRST HELLO KITTY HOTEL IN HAINAN
2022-01-14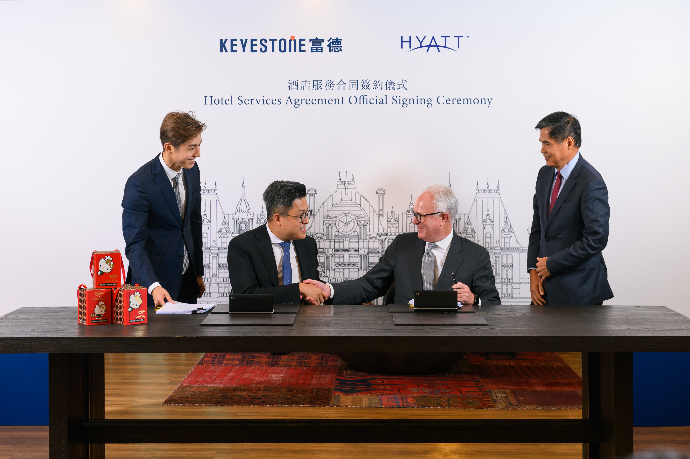 The hotel will be a part of the Hello Kitty Theme Park, to be opened by 2025
(13 January 2022) – Keyestone Group, a Hong Kong-based conglomerate focused on the development and management of high-quality premier projects in the Greater China region, and Hyatt Hotels Corporation (NYSE:H), a leading global hospitality company, today announced plans for China's first Hello Kitty Hotel in Sanya, Hainan. The hotel will be developed by the Keyestone Group and added to the JdV by Hyatt brand. It is expected to open by 2025 as part of the Sanya Hello Kitty Resort – the first Hello Kitty theme park in Hainan Province.
A vibrant addition to the JdV by Hyatt collection of independent properties, the hotel will feature 221 rooms and villas adorned with Hello Kitty designs and other well-known and beloved Sanrio characters. Embracing the JdV by Hyatt brand, Sanya Hello Kitty Hotel will also be home to an exciting range of world-class amenities, including three signature restaurants and bar, a themed ballroom, a swimming pool and state-of-the-art spa and a fitness center, inviting guests to celebrate the joy of life while indulging in a truly special and whimsical stay.
To be built within the 52-acre Sanya Hello Kitty Resort, the hotel will offer guests and visitors an immersive and memorable experience intimately connected to and reflective of the theme park, enabling guests to live in the moment. Guests are invited to embark on their very own Sanrio journey with enchanting interactive experiences, brought to life by innovative design and technology, and engaging story-telling elements that will appeal to Sanrio fans of all ages and cater to the growing demand for family-oriented tourism and hospitality offerings. The hotel will also offer seasonal events, activities and menus to celebrate key festivals with guests throughout the year.
Jeffery Pun, Chief Executive Officer of Keyestone Group, said, "As Keyestone Group continues to grow our hospitality portfolio across Greater China, we are excited to extend our collaboration with Hyatt. Sanya Hello Kitty Hotel will leverage our respective strengths in developing and managing world-class hospitality projects to offer guests a truly unique experience as they unwind and rejuvenate with their favourite Sanrio characters. We believe that the hotel and Sanya Hello Kitty Resort will become icons in Hainan's tourism landscape and enable us to tap the growing demand for high-quality travel experiences in this region."
Stephen Ho, president of Growth and Operations, Asia Pacific of Hyatt, said, "We are delighted to be working with Keyestone Group and are grateful to them for entrusting Hyatt with the first Hello Kitty-themed hotel in this fast-growing market and expand our brand portfolio in China. We look forward to bringing to life well-loved Sanrio characters in this exciting new project, which will retain a unique identity while providing the JdV by Hyatt brand's signature guest experience that is inclusive, free-spirited and distinguished by heartfelt and joy-driven service."
An intellectual property licensing agreement was signed between Keyestone Group and Sanrio (Shanghai) International Trade Co., Ltd. in July 2019, granting Keyestone Group access to more than 400 trademark Sanrio characters, many of whom will be featured in the Sanya Hello Kitty Resort and Hotel. Sanya Hello Kitty Hotel will be the second Hyatt-branded hotel located in Hainan that Keyestone Group has been involved in developing, alongside the award-winning Grand Hyatt Sanya Haitang Bay Resort & Spa, which opened in 2016. This is in addition to several milestone projects by Keyestone Group that are contributing to Hainan's vibrant tourism landscape and boosting its profile as a travel destination of choice.
The term "Hyatt" is used in this release for convenience to refer to Hyatt Hotels Corporation and/or one or more of its affiliates.
---